Why Choose YMSPCB for Your 2-Layer FlexiblePCB
Double-sided flexible PCBs or double-layer flex PCBs or 2-layer flexible PCBs are very popular in the electronic industry.
As a reliable 2-layer flexible PCB manufacturer in China, YMSPCB can provide PCB design & layout, PCB fabrication, and PCB assembly. If you are looking for a turnkey solution provider, YMSPCB is your best choice.
A 2-layer flexible PCB has two conductive copper layers and two overlays. We can offer different colors of shoulder masks including green, black, white, yellow, blue, and red. lt depends on our customers, typically we use cverlay to take the place of the solder mask and the color of the overlay is yellow.
As an lSO-certified PCB company, we always provide high quality for you. There are different test methods to control the product quality including AOl inspection, flying probe test, and auto-fixture test.
If you have one project that needs to be produced in a hurry, YMSPCB can help you to make it. We can produce the prototype of 2 layer flexible PCB within 24H and ship it by UPS, FedEx, or DHL.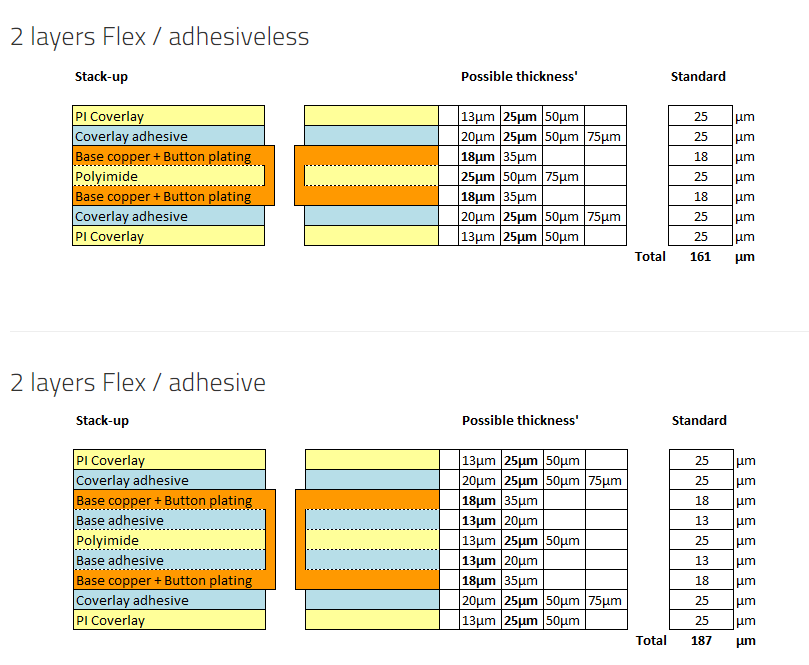 Custom 2 Layers Flexible PCB
We put at your disposal our know-how for the most complex printed circuit designs with parameters or characteristics so special that they require the personal assistance of our team. We will provvide customized solutions that meet your needs simply by sending us your files by e-mail.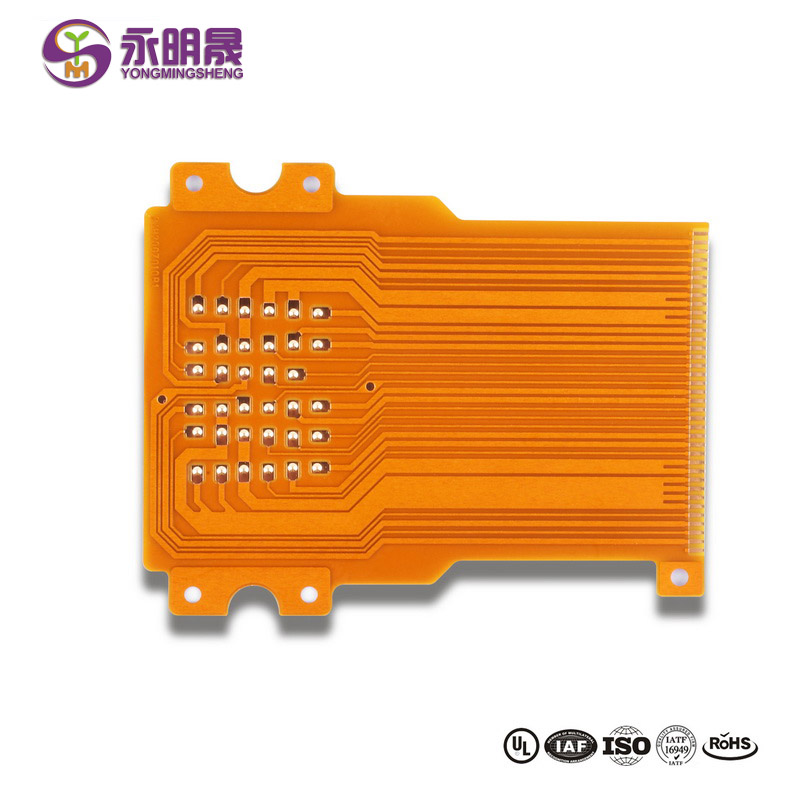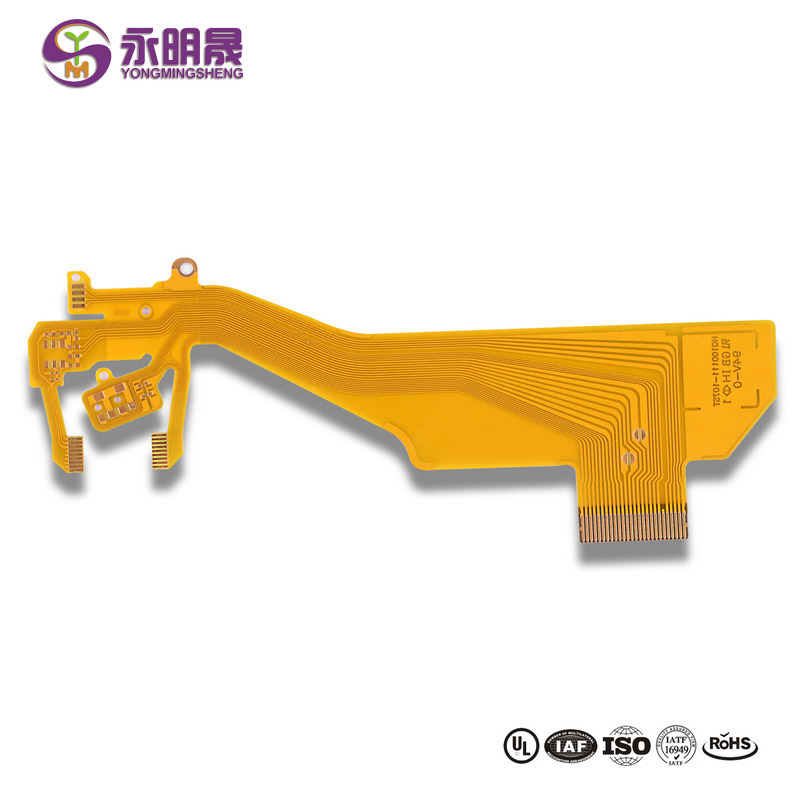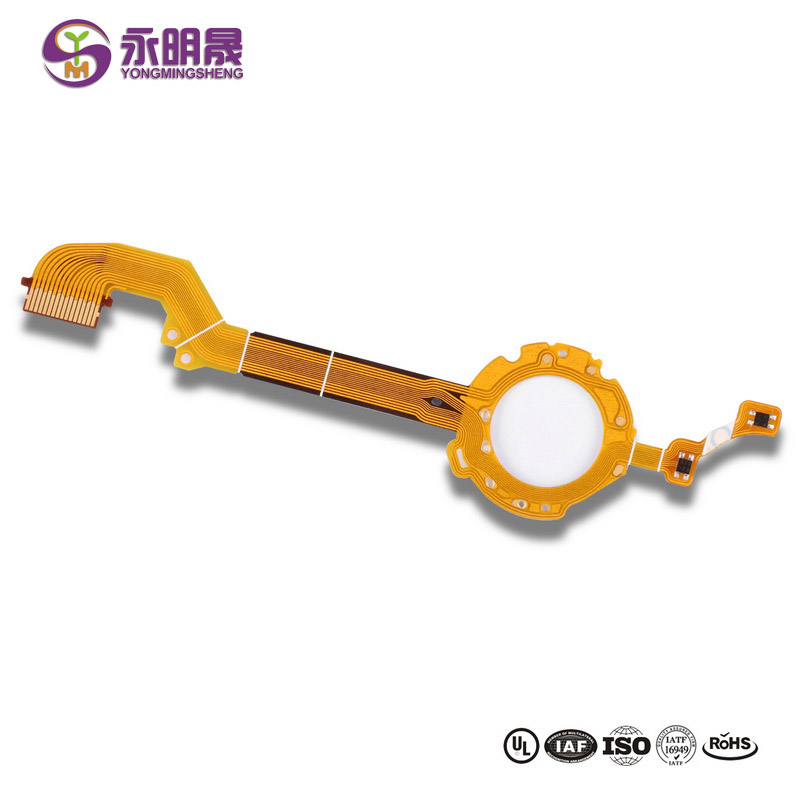 2 Layer FlexiblePCB: The Ultimate FAQ Guide
Flexible circuit boards, also called flexible PCBs or Flex PCBs, can easily conform to any product requirements.
Flexible PCBs contain specific circuit designs on their surface. For flexible PCBs, electronic parts are arranged on the base material called flexible laminate.
The flexible laminate allows the circuit to bend in various directions and enhances its freedom degree of electrical and mechanical design.
Flexible PCBs are especially useful in modular electronic structures.
Their applications include wireless floating heads, repeaters, digital cameras, cell phones, flat-panel LED displays, and HDI PCB.
A 2-layer flexible PCB is a circuit of two conductive membranes, one on either side of the circuit's-polyimide frame.
Trace designs, unique to your needs, can be produced on both sides of the substrate and linked via copper-plated through-holes.
The holes plated allow electrical contacts in both layers.
2 layer flexible PCBs assist in making Sculptured Flex boards.
They also allow higher circuit density when a layout cannot be routed on a single layer.
The 2 layer-flexible PCB design can achieve optimum performance if a multitude of factors is taken into account.
Following are a few of the most important ones.
Layouts
Several simple forms of 2 layer flexible PCBs are available. There is a substantial difference in construction between various flexible PCB forms.
Single-side Flexible Layout
A single metal conductor sheet or a metal-filled conductive polymer on a thin dielectric film makes upsingle-sided flexible circuits. Component terminals may be reached from one side. Single-side flexible PCBs may or may not use protective coatings, including cover layers or cover coatings; however, the common practice is to use protective film over circuits.
2 layer flexible PCB Layout
2 layer flexible PCB circuits have two conducting layers. Their construction may or may not include plated through-holes.
However, the plated through-hole variation is predominant.
Due to plated through-holes, connections for electronic components interfaces are provided for both sides of the circuit, enabling component placement on both sides of the flexible PCB.
if the design requires, protective cover layers may be applied on both sides of 2 layer flexible PCB.
However, the manufacturers do not miss applying a protective cover film or coating.
2 laver flexible PCB comprises a central base film called a laminate or a substrate, two copper foils, up to four adhesive layers, and two covering or protective layers.
Base films contain plated-through holes that connect to copper foil layers.
Adhesive layers attach a copper layer to the base film and attach a protective coating to the copper foil layer on both flexible PCB sides.
2 laver flexible PCB comprises a central base film called a laminate or a substrate, two copper foils, up to four adhesive layers, and two covering or protective layers.
Base films contain plated-through holes that connect to copper foil layers.
Adhesive layers attach a copper layer to the base film and attach a protective coating to the copper foil layer on both flexible PCB sides.
2 layer Flexible PCBs cost more than single-sided or rigid PCBs.
The raw materials and dedicated parts for specific functional needs are the primary cost drivers. Some design approaches can limit costs if implemented correctly.
An experienced, flexible PCB manufacturer must flexible products and efficiently manage output costs.
Therefore, many designs can be optimized to save costs and reduce complexity by eliminating extra layers. Some important considerations for enhanced design are listed below.
The most crucial aspect of design optimization is the number of layers. Hence, if a single layer can accomplish the purpose, then avoid extra layers.
There are many flexible PCB types. Each type has its own cost and performance specification. The parameters that decide price usually include material utilization rate, number of layers, degree of flexibility, timeline, and circuit complexity.2 to 3 mil track spacing and 0.25 mil hole size usually is optimal because it does the job in most cases. and it is not too expensive.
There are two options for flex PCB gold fingers, hard gold or immersion gold. Hard gold is costly.PCB stiffener is an important parameter. There are three options for stiffeners, Pi stiffener, Fr4stiffener, and Aluminum stiffener. So, for high-frequency applications, a harder stiffener is advisable. Low copper thickness is better. For higher flexibility circuits, avoid heavy copper. Instead, 1/3 oz copper is optimal.
The standard immersion gold finish is generally profitable.
A higher material utilization rate keeps the cost considerably down.
Manufacturing in higher quantities is usually more cost-effective.
There are numerous flexible circuit constructions in use. There is a wide variety of materials and processes used in these constructions.
The correct choice of manufacturing method depends on the end product's objectives and what can be traded off, if necessary, with the most negligible impact on the finished product.
A close working relationship is essential between the designer and the manufacturer to ensure the right balance between design intentions and manufacturing choices.
So, the flexible circuits offer some novel challenges to the assembly process
The usage of flexible and 2-layer flexible PCB devices is becoming more popular.
The 2 layer-flexible PCBs are being used in novel forms by designers.
In IC packaging, modern, flexible circuit technology has a significant part density.
These PCBs are widely used in digital cameras today.
The flexible sensors can detect vibrations, humidity, radiation, temperature, light, heat, and chemicals.
They can track livestock and control patients when implanted in RFID systems.
Calculators, printers, computers, cellphones, and other mobile devices utilize modular 2-layer flexible PCBs. Sensory equipment, robotics, and a human-machine interface are all examples of flexible PCB implementations.
The 2 laver flexible PCBs have applications in the automobile industry. Hearing aids, pacemakers, andexercise devices all utilize adjustable circuits, particularly convenient for healthcare.
n recent years, progress on flexible thin-film solar cells has accelerated. They're lightweight, allowing for mass manufacturing at a low cost. Rollup solar cell arrays allow for electricity storage for defensive purposes.
Other 2 layer flexible PCB Applications might include:
Ground and power plane applications.
Dense surface mount assembly.
Protective and shielding applications
ICD Module for cellphones, laptops, digital cameras, and calculators.
Optical pick-up for autonomous vehicles and computers.
If you cannot find an answer to your question in our FAQ, you can always contact us and we will be with you shortly.