PCB-frekansa bilind çi ye
PCB-yên frekansa bilind bi gelemperî rêzek frekansê ji 500MHz heya 2 GHz peyda dikin, ku dikare hewcedariyên sêwirana PCB-ya bilez, mîkro, radyofrequency û sepanên mobîl bicîh bîne. Dema ku frekansa ji 1 GHz bilindtir be, em dikarin wê wekî frekansa bilind pênase bikin.
Îro, tevliheviya hêmanên elektronîkî û guhêrbar her ku diçe zêde dibe, û herikîna îşaretek zûtir ji ya gelemperî hewce ye. Ji ber vê yekê, frekansek veguheztina bilindtir hewce ye. Dema ku hewcedariyên îşaretek taybetî di nav hêman û hilberên elektronîkî de yek dike, PCB-ya frekansa bilind gelek avantajên xwe hene, wek karbidestiya bilind, leza bilez, kêmbûna kêm, û berdewamiya dielektrîkê ya domdar.
PCB-frekansa bilind - materyalên taybetî
Materyalên taybetî hewce ne ku meriv frekansa bilind a ku ji hêla vî celebê panelê çapkirî ve hatî peyda kirin were fêhm kirin, Ji ber ku her guheztina destûrdariya wan dibe ku bandorê li impedansa PCB bike. Pir sêwiranerên PCB-ê materyalê dielektrîkî Rogers hildibijêrin ji ber ku ew windabûna dielektrîkê kêmtir e, windabûna sînyala kêmtir e, lêçûnên hilberîna çerxê kêmtir e, û ji bo serîlêdanên prototîpa zivirîna bilez di nav materyalên din de maqûltir e.
Zehmetiyên Layout PCB-ya Frequency Bilind
1. Pêşengiya di navbera pêlên cîhaza elektronîkî ya bilez de hindik be ew çêtir
Têla sereke ya têlkirina çerxa frekansa bilind bi tercîh xêzek tije ye, ku pêdivî ye ku were zivirandin, û dikare bi xêzek 45-pileyî an kevanek dorveger were pêçan. Ev hewcedarî tenê ji bo baştirkirina hêza rastkirina pelika sifir di çerxa frekansa nizm de tê bikar anîn, û di çerxa frekansa bilind de, naverok têr e. Yek pêdivî ev e ku veguheztina derveyî û hevahengiya hevdu ya sînyalên frekansa bilind kêm bikin.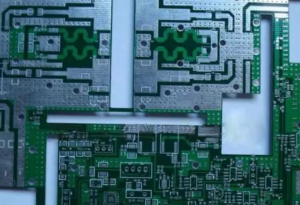 2. Amûra çerxa frekansa bilind a di navbera qatên pînê de bi rengekî ku gengaz kêmtir dibe
Ya ku jê re tê gotin "herî hindik veguheztina di navbera qatên lîderan de çêtir e" tê vê wateyê ku di pêvajoya girêdana pêkhateyê de çiqas hindiktir were bikar anîn, ew çêtir e. A via dikare kapasîteyek belavkirî ya bi qasî 0.5pF bi xwe re bîne, û kêmkirina hejmara via dikare bi girîngî lezê zêde bike û îhtîmala xeletiyên daneyê kêm bike.
3. Pêşkêşiya di navbera pêlên cîhaza çerxa frekansa bilind de bi qasî ku pêkan kurt e
Zêdebûna tîrêjê ya sînyalê bi dirêjahiya şopa xeta sînyalê re têkildar e. Çiqas dirêjtirîn rêça sînyala frekansa bilind be, ew qas hêsantir e ku meriv bi hêmanek nêzî wê ve were girêdan, ji ber vê yekê ji bo demjimêrên wekî îşaret, krîstal, daneyên DDR, xetên sînyala frekansa bilind ên wekî xetên LVDS, xetên USB, û xetên HDMI pêdivî ye ku bi qasî ku gengaz be kurt be.
4. Bala xwe bidin "crosstalk"a ku ji hêla xeta sînyalê û xeta paralel a kurt ve hatî destnîşan kirin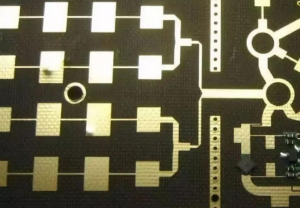 Sê Pirsgirêkên Mezin ên Design PCB Leza Bilind
Dema ku hûn li ser sêwirana PCB-ya bilez dixebitin, gelek pirsgirêk hene ku hûn ê di rê de rûbirû bibin berbi gihandina sînyalên xwe ji xala A heya xala B. Lê ji wan hemîyan, sê fikarên herî sereke ku divê ji wan haydar bin ev in:
Demjimêr. Bi gotinek din, gelo hemî îşaretên li ser sêwirana PCB-ya we di wextê rast de li gorî nîşanên din digihîjin? Hemî îşaretên leza bilind li ser sêwirana panela we ji hêla demjimêrek ve têne kontrol kirin, û heke wextê we nekêş be, wê hingê hûn ê îhtîmalek daneya xerabûyî bistînin.
Linavketinî. Bi gotinek din, gava ku ew digihîjin cîhê xweya paşîn, nîşanên we wekî ku divê xuya dikin? Ger ew nebin, wê hingê ev tê vê wateyê ku sînyala we di rê de rastî hin destwerdanê hat ku yekdestiya wê xera kir.
Deng. Bi gotinek din, ma îşaretên we di rêwîtiya xwe de ji transmiter heya wergir rastî her cûre destwerdanê hatin? Her PCB cûreyek deng derdixe, lê gava ku dengek pir zêde hebe, wê hingê hûn şansê xerabûna daneyê zêde dikin.
Naha, mizgîn ev e ku ev Sê Pirsgirêkên Mezin ên ku hûn dikarin li ser sêwirana PCB-ya bilez a bilind rû bidin, hemî dikarin ji hêla van Sê Çareseriyên Mezin ve werin rast kirin:
Impedance. Di navbera veguhezkar û wergirê we de xwedan impedansek rast dê bandorek rasterast li ser kalîte û yekbûna sînyalên we bike. Ev jî dê bandor bike ka sînyalên we ji dengî re çiqas hesas in.
Lihevhatin. Lihevkirina dirêjahiya du şopên hevgirtî dê piştrast bike ku şopên we di heman demê de û bi rêjeyên demjimêra we re hevdeng in. Matching çareseriyek bingehîn e ku meriv ji bo serîlêdanên DDR, SATA, PCI Express, HDMI, û USB lê bigere.
Spacing. Her ku şopên we nêzikî hev bin, ew qas bêtir metirsîdar dibin ji deng û celebên din ên destwerdana sînyalê. Bi danîna şopên xwe ji ya ku hewce dike nêzîktir nekin, hûn ê dengê li ser panela xwe kêm bikin.
Heke hûn dixwazin di derheqê bihayê PCB-ya frekansa bilind de bêtir zanibin, ji kerema xwe pelên PCB-ya xwe bar bikin (forma Gerber bijare) û hewcedariyên xwe li ser nextpcb.com/pcb-quote binivîsin, û em ê bi lez û bez ji we re vebêjin.
---
Dema şandinê: Mar-14-2022