Rigid flex pcb multilayer flexible pcb HDI Any-Layer PCBs stacked vias | YMSPCB
Product Detail
Product Tags
What is a Rigid Flex PCB?
Rigid-Flex printed circuit boards are boards using a combination of flexible and rigid board technologies in an application. 
The proper application of Rigid-Flex circuit boards offers optimum solutions for difficult, limited space conditions. This technology offers the possibility of a secure connection of device components with the assurance of polarity and contact stability, as well as a reduction in plug and connector components.
Additional advantages of Rigid-Flex circuit boards are dynamic and mechanical stability, the resulting 3-dimensional freedom of design, simplified installation, space savings, and maintenance of uniform electrical characteristics.
Parameters
Layers: 8L  rigid flex  pcb
Board Thinkness:0.69mm+/-0.1mm
PCB thickness in flex section:0.5mm+/-0.05mm
Base Material:PI+FR4pp
Min laser Holes:0.075mm(3mil)
Min mechanical Holes:0.15mm
Minimum Line Width/Clearance:0.046mm/0.046mm( 1.8mil/1.8mil)
Minimum Clearance between Inner Layer PTH and Line: 0.175mm
Size:160.92mm×145mm
Aspect Ratio:4.6 : 1
Surface treatment:ENIG
Speciality: rigid flex pcb multilayer fpc HDI Any-Layer PCBs stacked vias, Fine circuit 1.8mil, High Density Interconnect PCB 1.8mil/1.8mil,Laser via copper plated shut
Differential impedance 100+7/-8Ω
Applications: Medical stimulator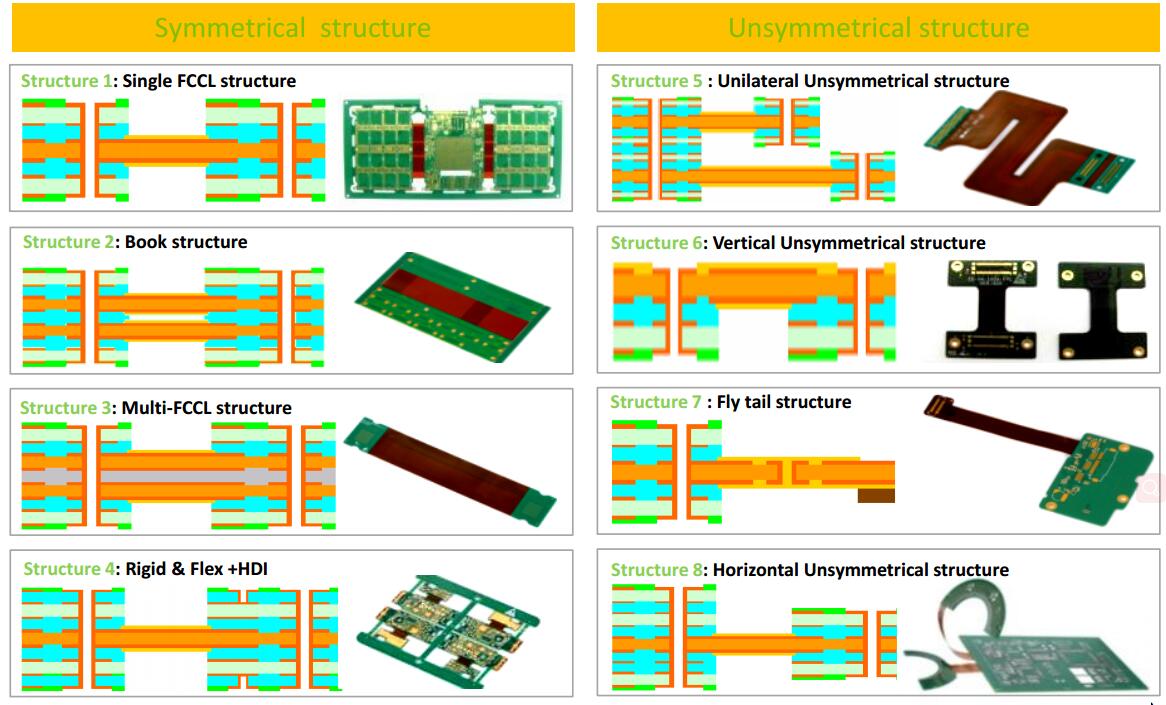 YMS Rigid Flex PCB manufacturing capabilities:
YMS Rigid Flex PCB manufacturing capabilities overview
Feature
capabilities
Layer Count
2-20L
Rigid-Flex Thickness
0.3mm-5.0mm
PCB thickness in flex section
0.08-0.8mm
copper Thickness
1/4OZ-10OZ
Minimum line Width and Space
0.05mm/0.05mm(2mil/2mil)
Stiffeners
Stainless steel,PI, FR4  etc.
Material
Polyimide Flex+FR4,RA copper, HTE copper, polyimide, adhesive,Bondply
Min mechanical Drilled Size
0.15mm(6mil)
Min laser Holes Size:
0.075mm(3mil)
 
Surface Finish
Suitable Microwave/RF PCB urface finishes: Electroless Nickel, Immersion Gold, ENEPIG, Lead free HASL,Immersion Silver.etc.
Solder Mask
Green, Red, Yellow, Blue, White, Black, Purple, Matte Black, Matte green.etc.
Covrelay (Flex Part)
Yellow Coverlay, WhiteCoverlay,Black Coverlay
Learn more about YMS products
---
---
---
Flexible PCBs (FPC) are the PCBs that can be bent or twisted without damaging the circuits, which means the boards can be bent freely to conform to the desired shape during applications. The material the substrate used is flexible, such as Polyamide, PEEK, or a conductive polyester film.
Write your message here and send it to us